Dear Colleagues,
Thank You for entrusting City Endodontics with your emergency needs during these challenging times.
City Endodontics stands united with you as we aim to be triumphant during this sobering new reality. Everyone's safety and well-being is of the utmost importance to us during the COVID-19 crisis. We write to inform you of our current and expected return to work best practices as defined by the AAE's and the ADA's updated guidelines and recommendations for considerations of care.
As we anticipate a return to work in the coming weeks, City Endodontics continues to follow the ADA recommendations limiting care to emergency/urgent dental treatment
Please be advised that our office hours have changed on the basis of demand for our services:
Phones open for scheduling/Teledentistry screenings: Mon-Fri 10 AM - 4 PM
In office management of emergency cases: Mon, Wed, Fri 10 AM - 3 PM
If you or your patients are in pain and in need of immediate care, please call our office at (646) 880-9445 or email us at city@nycityendodontics.com as we work to provide our community with safe treatment options.
City Endodontics continues to update our sanitation policies, and office safety protocols based upon Guidance from the CDC which categorically includes but is not limited to the following:
Guidance on pre-appointment screening
In-office patient registration procedures
Reception area preparation strategies
Chairside Safety
Staff/patient protection strategies
Updating our PPE accordingly as evidence becomes available
We are here to support you and will play our part to fight the spread of the novel Coronavirus. If you need more support or clarification please reference our City Endodontics COVID-19 protocol plan which is attached for your review.
In Safety and Wellness,
Dr. Marcus Johnson and the City Endodontics Team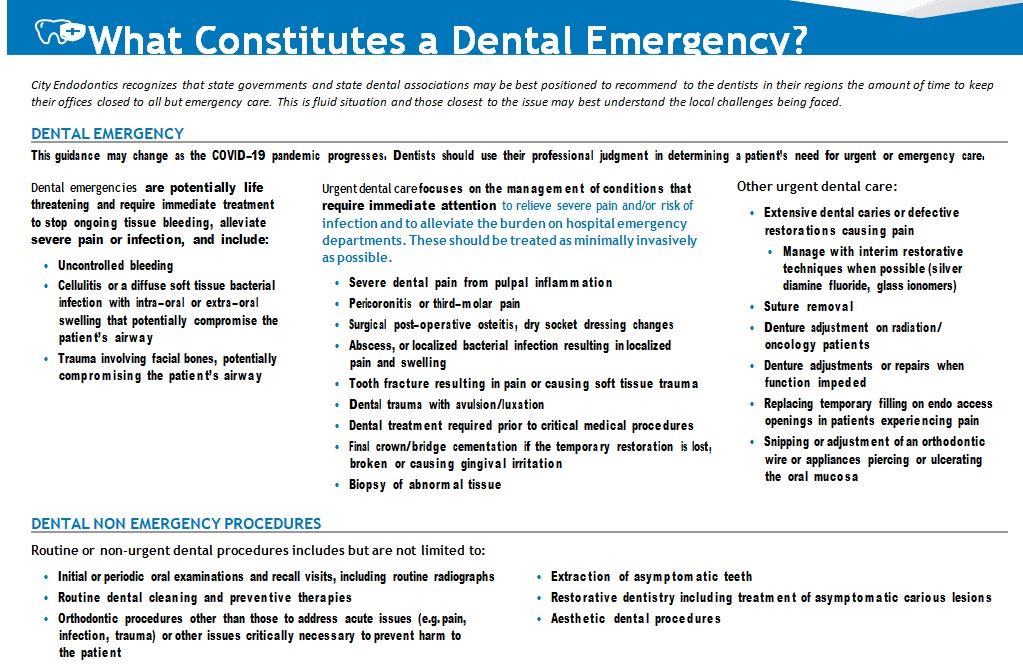 Research